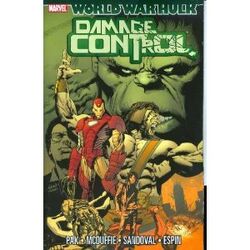 World War Hulk is over. But the Aftersmash has just begun!
Heroes and monsters rise and fall as the events of World War Hulk reverberate through the blasted ruins of New York City with goliath impact in a massive story featuring the Warbound, the Renegades, Heroes for Hire, Iron Man, Tom Foster, and Damage Control. And yes, smashing will be involved.
Plus: We don't know if you heard, but Hulk came back to earth and made a huge mess. Who's S.H.I.E.L.D. gonna get to clean it up? DAMAGE CONTROL, the roughest, toughest dilapidated dirt dogs this side'a the universe. If anyone can clean up the aftereffects of World War Hulk, they can.
But while they're picking up the pieces, they find that the war... may not be over!
Ad blocker interference detected!
Wikia is a free-to-use site that makes money from advertising. We have a modified experience for viewers using ad blockers

Wikia is not accessible if you've made further modifications. Remove the custom ad blocker rule(s) and the page will load as expected.