The Lottery

Episode

17 of season 3

Director

John McPherson

Writers

Allan Cole, Chris Bunch, Daniel B. Ullman (story)

Original airdate

February 15, 1980

Alias

David Becker

Location

Houston, Texas

Preceded by

Followed by
The Lottery is episode seventeen in season three of the live-action TV series The Incredible Hulk. It originally aired on February 15, 1980 on CBS.
David is befriended by a newsstand owner, Harry Henderson, who also happens to be a retired con artist. David is ecstatic when Harry gives him a lottery ticket that ends up winning a $250,000 prize. The new influx of cash can buy some sophisticated science equipment to help him perform the research needed to find a cure for his transformations. Unfortunately, he can't collect the money because doing so would reveal his identity. To get around this problem, he asks Harry to collect the money on his behalf. However, he has other ideas that lead to a great deal of trouble for David.
Lou Ferrigno ... The Hulk
Robert Hogan ... Harry Henderson
Luis Avalos ... First Official
Peter Breck ... Hull
Russell Arms ... Announcer
Jimmy Hayes ... Guard
Adam Thomas ... Steve Simpson
David McKnight ... Officer Clark
Jack Denbo ... Man
Christi Corso ... Mugger
Peter Bruni ... Lover
Charles A. Tamburro ... Helicopter Pilot
Highlights
Edit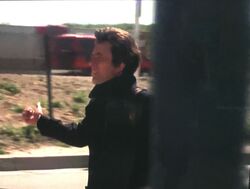 Some amusing Hulk scenes (example:). While David eludes hotel security, he transforms into the Hulk in a ventilation shaft. The Hulk unwittingly crashes into a room where an attractive woman is stepping out of her shower. He pauses for a moment and gives a smirk, before continuing with his rampage.
Hulk out 1: Wandering around in the service ducts of a hotel (akin to Bruce Willis) only to accidentally yank several of the steam pipes loose and get a full blast of hot steam.
Hulk out 2: Beaten up and thrown in a closet, and while thrashing around and trying to get out, sticking his hand in a box of broken glassware.