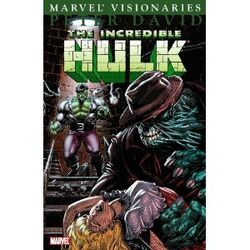 The Hulk continues his pulsating partnership with the Pantheon, and he'll need all the supporting characters he can get when half the universe disappears! Thanos has taken up the Infinity Gauntlet, but the Hulk instead suspects his endurable adversary Abomination — and it should be easy to investigate from the ground up...when he's shrunken to six inches tall! Plus: hard choices, harder punches and the death of a longtime Hulk ally.
Guest-starring Doctor Strange, the Man-Thing and Sabra the Super-Agent!
Ad blocker interference detected!
Wikia is a free-to-use site that makes money from advertising. We have a modified experience for viewers using ad blockers

Wikia is not accessible if you've made further modifications. Remove the custom ad blocker rule(s) and the page will load as expected.