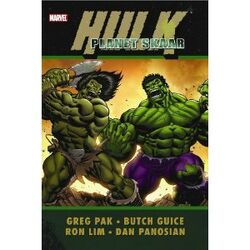 The soothsayers sing: One day, green-hued giants will clash on the broken battlefields of savage Sakaar. One day the son will confront the father who abandoned him to monsters and madmen. But before Skaar can meet the Hulk, he must survive today's terrible clash. And even with all his rage and strength, what hope can he have against the return of the SILVER SAVAGE?
The Silver Surfer returns to Sakaar as a new story-arc begins!
Ad blocker interference detected!
Wikia is a free-to-use site that makes money from advertising. We have a modified experience for viewers using ad blockers

Wikia is not accessible if you've made further modifications. Remove the custom ad blocker rule(s) and the page will load as expected.