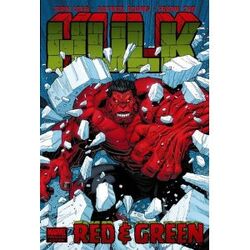 When Bruce Banner sets out to find the Red Hulk he doesn't expect his search will lead him to Sin City, Nevada. And imagine his surprise when he arrives to discover the unbridled carnage a pack of Wendigos can unleash! Las Vegas buffets will never be the same!
Plus: no matter what size, shape, color, or sex, Hulks don't take kindly to being on the wrong side of a beating. Armed with an arsenal of advanced S.H.I.E.L.D. weaponry and itching for payback, She-Hulk's Lady Liberators have one goal: Subdue the Red Hulk, and make him pay in the process! All this plus a special KING-SIZE spectacular with more smashing, bashing, trashing, and clashing than should be allowed by law!
Ad blocker interference detected!
Wikia is a free-to-use site that makes money from advertising. We have a modified experience for viewers using ad blockers

Wikia is not accessible if you've made further modifications. Remove the custom ad blocker rule(s) and the page will load as expected.