Gabriel Jones
Real name:
Gabriel Jones
First Appearance:
The Incredible Hulk 1969 animated series

Created by:

Stan Lee and Jack Kirby

Team affiliations:

S.H.I.E.L.D.

Abilities:

None

Portrayed by:

Thom Barry (voice)
Gabriel Jones was a prominent member of Nick Fury's Howling Commando's and later a high ranking agent of S.H.I.E.L.D. In The Incredible Hulk 1996 Animated series, Gabe Jones was the S.H.I.E.L.D's agent assigned to assist General Thunderbolt Ross in capturing the Hulk. He has an enormous ego.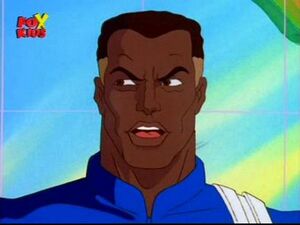 Ad blocker interference detected!
Wikia is a free-to-use site that makes money from advertising. We have a modified experience for viewers using ad blockers

Wikia is not accessible if you've made further modifications. Remove the custom ad blocker rule(s) and the page will load as expected.