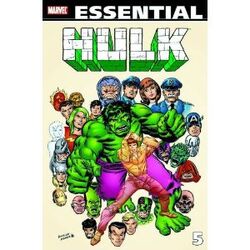 The Abomination, the Glob, the Juggernaut, the Rhino, the Wendigo, Xemnu the Titan, and more - no enemy's too big and monstrous for the Hulk!
But is even the strongest one there is a match for the one who's the best there is... at what he does? Wolverine's first appearance and first fight with the Hulk reprinted here!
Plus: triple-gamma action, international intrigue, poetry, and the first death of Adam Warlock! Guest-starring the X-Men, the Inhumans, and S.H.I.E.L.D.!
Ad blocker interference detected!
Wikia is a free-to-use site that makes money from advertising. We have a modified experience for viewers using ad blockers

Wikia is not accessible if you've made further modifications. Remove the custom ad blocker rule(s) and the page will load as expected.